Supporting residents' wellbeing and our staff vaccination status
September 02, 2021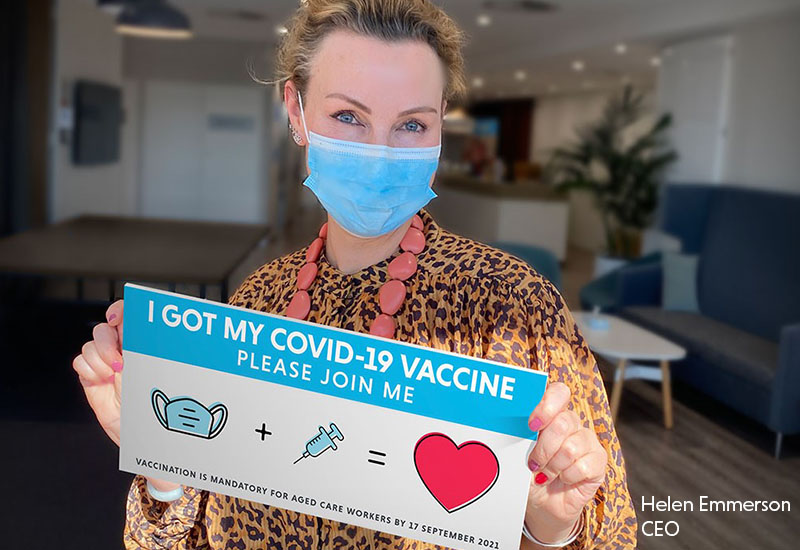 As all of us continue to live in various states of lockdown and manage the stress, uncertainty, and disruption it brings to our lives, I wanted to update you on ways we are supporting residents' wellbeing and our staff vaccination status.
Throughout this pandemic, we have been doing everything possible to keep residents safe. I'm proud to say most of our workforce already are or have had their first shot of the COVID-19 vaccine.
You may be aware from 17 September, COVID-19 vaccinations for the aged care workforce will be mandatory. As has been well covered by the media, there have been delays and challenges in rolling out vaccinations to all aged care staff; however, we are now seeing a real uptake in the rate of vaccinations.
I am very pleased to report all Southern Cross Care (NSW & ACT) staff still waiting to be vaccinated have appointments or workplace clinics scheduled for before 17 September. Some of our homes are already at more than 90% of staff vaccination rates.
In the meantime, we are going above and beyond to protect residents, staff, and our wider community from COVID-19.
I'm particularly proud of our initiative to introduce Rapid Antigen Testing, which means no external essential providers or visitors enter our homes without having an on-the-spot test. In addition to vaccinations and mandated surveillance testing for our staff across our Sydney and Central Coast sites, this is an added layer of reassurance and a welcome new tool in our toolkit.
This has meant families have been able to say goodbye to loved ones, allowed residents to more easily return home from high-risk settings, and ensure emergency and essential contractors, as well as agency staff, can safely carry out vital work.
We believe we're among the first providers to proactively adopt Atomo Diagnostic's rapid testing, which the government will soon introduce across high-risk settings. We're also running COVID-19 training exercises to ensure our management plans are ready should they be deployed.
To focus on the mental health and wellbeing of residents, we have also introduced a 'New Connections' scheme for residents and isolated home care clients to maintain social connections with members of our support office staff and their families volunteering for this program. In addition, our Leisure and Lifestyle Team has been holding small group sessions with residents such as armchair travel, quiz competitions, virtual music therapy, art therapy, and exercise activities.
The past 20 months have been challenging, particularly in the aged care sector. I want to thank residents, their loved ones, and staff for their ongoing vigilance and determination throughout this challenging time.
It is my hope that through the collective efforts of the community and our staff to get vaccinated that we will be able to look forward to living with fewer restrictions in the near future. In the meantime, stay well and safe, and please don't hesitate to get in touch with your Facility Manager or Support Office to discuss any concerns.
Helen Emmerson
Chief Executive Officer
Articles we recommend
Comments
Commenting is not available in this channel entry.