Gwen benefits from her aged care home
July 03, 2020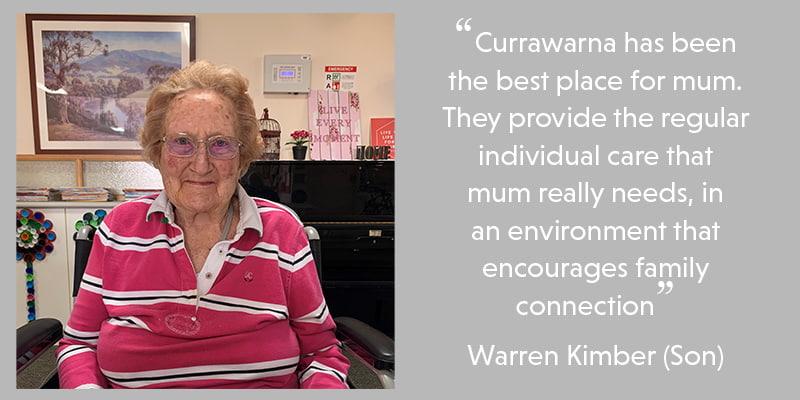 Gwen Kimber, 90, was born in Bombala and has lived there all her life. Her husband was the local shearing contractor and Gwen was a full-time house wife.
Later in life Gwen lost her husband and she remained in her own home. She suffered from a variety of medical conditions and her 2 sons, Brett, Warren and wife Frances became her main carers. As her condition worsened, Gwen eventually found herself in hospital. The prognosis was not good, and the hospital advised her family to look for palliative care options.
Gwen arrived at Southern Cross Care Currawarna in 2018 with a view to about 2 weeks of palliative care. Karen Brownlie is the Facility Manager and was on duty the day of Gwen's arrival. "Gwen did not look well at all. She had lost about 30 kilos in weight. She was very withdrawn and very tired," says Karen.
Gwen's family were apprehensive about Gwen's next steps of entering an aged care home, but nothing could prepare them for what happened next.
Gwen's condition began to improve quickly in the care home environment. "After 2 weeks, we realised that we needed to reassess the current situation and prepare to have mum stay at Currawarna a little longer," says her son Warren. Currawarna has been the best place for her. They provide the regular individual care that mum really needs in an environment that encourages family connection," he says.
In 2020, Gwen is still a Currawarna resident. Her family like to visit her most days. 'I am so proud of Gwen and my team who have made a difference to her wellbeing. It shows the value of our care homes and the benefits of individualised care to residents," says Karen.
For many of our most vulnerable and elderly in the community, there can be benefits of residing in an aged care home. These can include:
the care team onsite can be familiar with your care needs and adapt your level of care
assistance from trained and qualified professionals
help is on hand 24/7 for your health care needs
you can have access to the medication, services and equipment you require
the care home can manage any regular medical appointments
regular social events and scheduled activities
having home cooked meals and no housework
less stress for family members
Our homes are warm, welcoming places with nurses and carers providing respectful care to meet your needs and support your health and wellbeing. Find a Southern Cross Care Home near you.
Articles we recommend
Comments