Inspired by others, Carlie has found her passion
May 25, 2021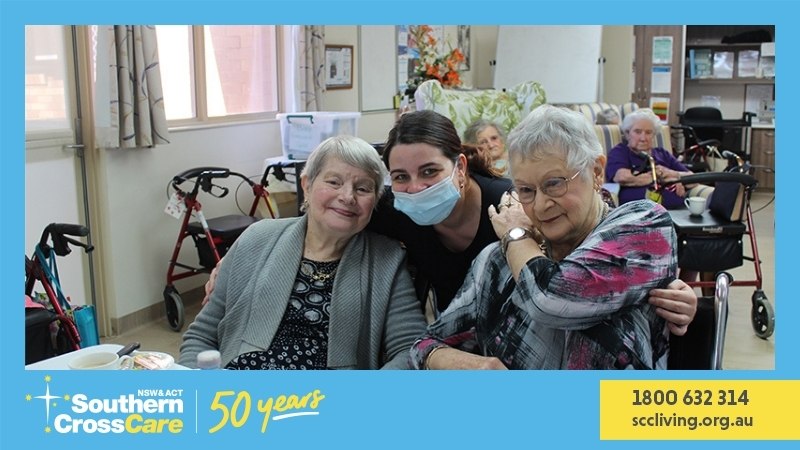 Carlie Walter is the Administration Team Leader at the St Catherine's Southern Cross Care home in Grafton. She was inspired to pursue a career in aged care from a very early age to help make a difference to the ageing community. She knows the importance of the simple things in life and spends quality time getting to know all her residents.
Carlie commenced with Southern Cross Care in 2006 as a school-based trainee. She was just 16 years old. "I needed to find an employer for my year ten work experience, and I knew where I wanted to be, so I nervously walked into St Catherine's aged care home and asked them to take me on. That was thirteen years ago", says Carlie.
The residents know everything about Carlie, and she knows a lot about them. She has developed a strong connection and friendship with residents, which was especially important during COVID-19. Carlie and her work colleagues were able to help those who were feeling anxious and stressed at a time when visitor restrictions were in place.
"Because I have been here for so long, I am a familiar friendly face that brings a certain level of comfort to our residents. I have made some beautiful friendships with them, and we care about each other. They inspire me every day, and I often forget that this is a job," says Carlie.
Carlie has embraced various roles as her knowledge and training have progressed over the past few years. She commenced full-time as a Care Service Employee and later became competent in medication management. She performed in a Team Leadership role and as a Deputy Facility Manager. Now in charge of Administration, Carlie has been instrumental in transitioning the home during a significant redevelopment period.
Following the redevelopment at St Catherine's, the home will provide quality care for more residents, new courtyards and landscaped areas, walking tracks, café facilities, kitchens, a chapel and wellness hub, a library, hair salon and lounge areas.
Whilst there are many new changes, the simple things have remained the same. Carlie still greets everyone with a smile and talks to residents every day. She still loves being a part of their lives and sharing her own experiences with them.
And whilst Carlie will soon be spending time with her own new family, her family at St Catherine's are already looking forward to welcoming her back.
Articles we recommend
Comments
Commenting is not available in this channel entry.
Carlie is a beautiful person the staff at St Catherine's were so good to our Mum when she was a resident there Carlie always had a beautiful welcoming smile when you walked in she couldn't do enough for you thanks to all the staff for all the love and care they gave to Mum in her long stay with them beautiful people Dorothy and Christine