Patience is a virtue for Jill
August 25, 2021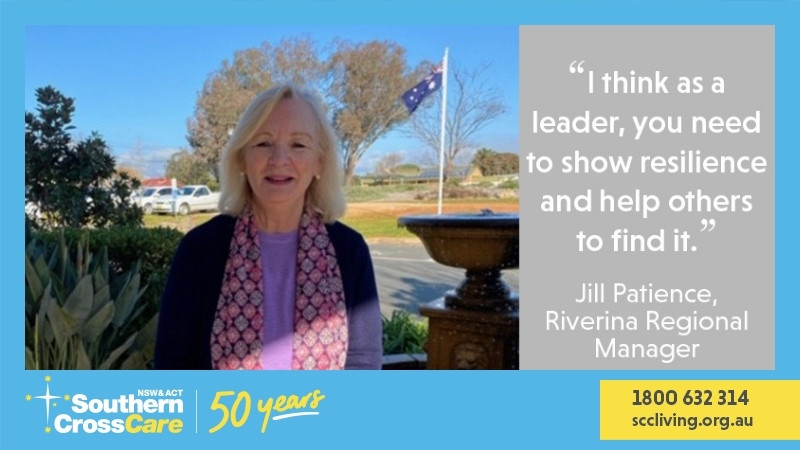 If there's one thing we can all learn from this pandemic, it's to keep calm and have plenty of self-control. It's all in the name for our Riverina Regional Manager, Jill Patience. Jill was born in Victoria on the Mornington Peninsula, and she has fond memories of the region long before it was popular.
Jill moved away from the Mornington Peninsula when she started Nursing at the Royal Melbourne Hospital in 1972. Now living in Albury, she oversees our regional care homes in the Riverina, close to the Victorian border.

Last year was the first time in a century that the border between New South Wales and Victoria was closed due to the spread of COVID-19. There are about 50 border crossings between the two states, with some towns sharing the border. For Jill and her team, border closures, permits and bubbles continue to be a logistical challenge.
"In 2020, it could take 1-2 hours for our staff to cross the border between Echuca and Moama. This year, we are in a border bubble with Victoria, which provides some relief. Still, one of the significant challenges in the region now is that many families live in Melbourne and are unable to see their loved ones because of state-wide lockdowns. That's why the use of technology through video calls is so essential." Says Jill.

In her role as Regional Manager, Jill is passionate about supporting her team to face the challenges of aged care during COVID-19 head-on."I think as a leader, you need to show resilience and help others to find it. I often use my surname to illustrate this point. The name says it all". Says Jill.

She is also passionate about the care of our most vulnerable. "Social connection and feeling cared for during visitor restrictions in our homes are more important than ever for residents. Our staff often become their second family, making sure they feel safe, secure and comfortable. I also like to take time out to get to know the residents and spend time with them and talk to their families". Says Jill.

Jill is now looking confidently to the future, to a time when we can live with a little more freedom and feel safe and protected against the virus. "I want to continue my work with Southern Cross Care to support our residents, their families and our staff, especially in the Riverina Region. I also dream of one day being able to travel again. Let's hope for a brighter future ahead."
Articles we recommend
Comments