Residents come together to commemorate ANZACS
April 23, 2021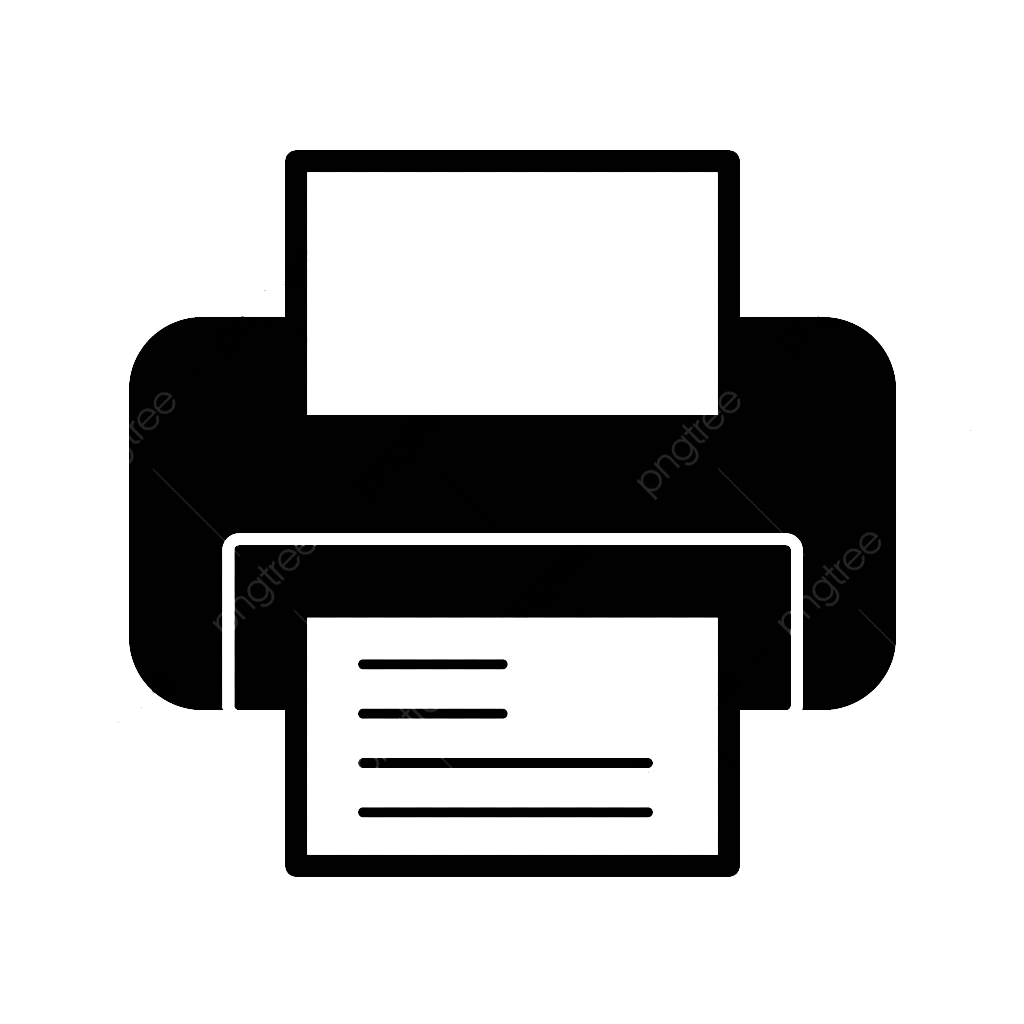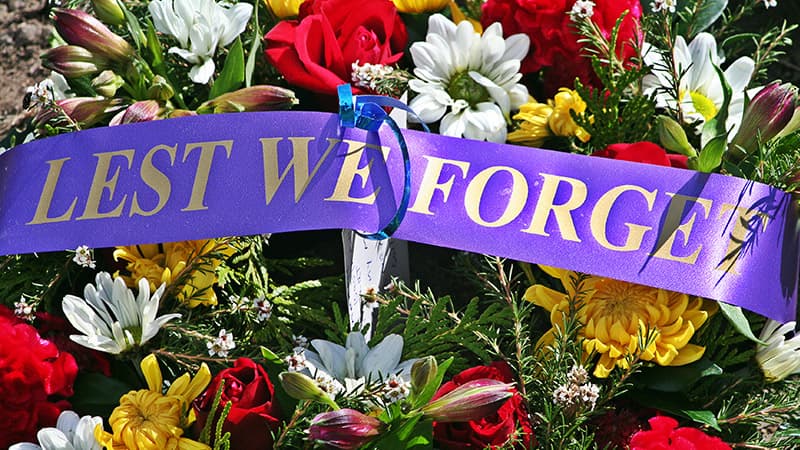 Anzac Day is the day all Australians come together in remembrance.
In 2021, ANZAC Day will be a little more normal after COVID-19 restrictions changed the way we commemorated in 2020. Southern Cross Care residents are coming together to keep the ANZAC spirit alive and honour veterans and service members. Here are just some of their stories
Leslie's story:
Leslie Atkinson is living in our Banora Point care home, and he was 12 years old when World War Two began. He grew up in London and was evacuated to the country area of England to avoid the German bombing of buildings at the time, known as The Blitz.
Leslie lied about his age to be part of the war effort in protecting his country. He joined the Royal British Army and travelled to the Bay of Biscay, going through the Suez Canal, stopping in Egypt for a while and then to India, where he served for some time.
When the war officially ended, Leslie stayed with the British Army, working in "mopping up operations", which included peacekeeping duties and the taking of prisoners.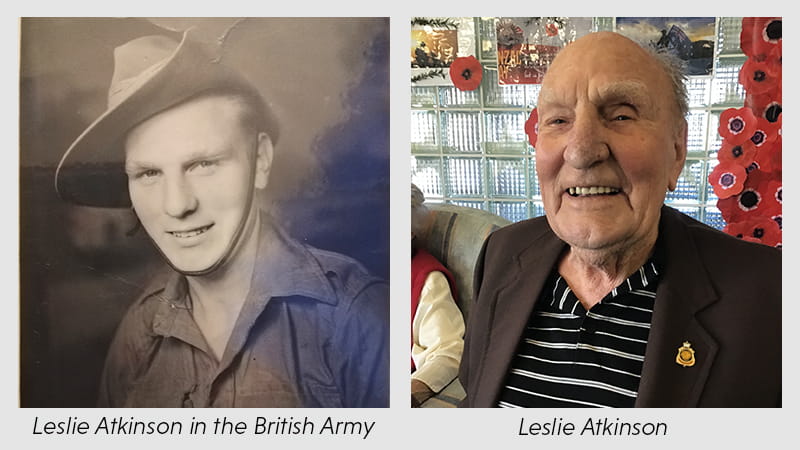 Jean's story: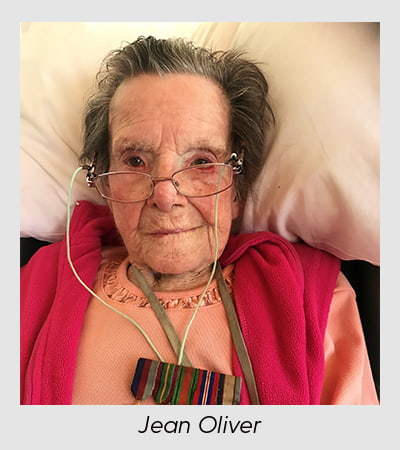 Jean Oliver lives in our Plumpton care home, and her father was in the Gallipoli 3rd Battalion. He was later gassed in France, developed Tuberculosis and passed away in Hospital. Jean fondly remembers running to him with open arms at the age of just three. He will always be remembered as 'Sergeant Sunshine' to her. Jean's uncle was also an ANZAC in the 11th Battalion, so it's no surprise that Jean wanted to show her loyalty to her country.
Jean had to catch a train from Victoria to Sydney and sit up all night to enlist. She trained in Ingleburn, went to Egypt and Singapore before finding herself in Brisbane with The Royal Australian Corps of Signals.
For Jean, ANZAC Day is about commemorating all the sacrifices that men and women gave for their country.
Stan's story:
Stan Adams from our Bateau Bay care home fought in The Battle at Monte Cassino in 1944. Just as his father did, Stan Adams was 16 years old when he lied about his age to sign up for the army. He became a member of the Royal Northumberland Fusiliers based in Newcastle, North East England.
Stan's regiment would use large machine guns to clear away enemy fighters, usually attacking at night for a land invasion in the early hours. The guns were covered with blankets to hide the flash from the cannons, as a result Stan's lungs became full of asbestos as this was a material used on the blankets.
"I fought in major battles in the Algiers and Greece and was part of the major offensive at Monte Cassino in Italy." says Stan. Monte Cassino was an historic hilltop abbey. Lying in a protected historic zone, it had been left unoccupied by the Germans, although they manned some positions set into the steep slopes below the abbey's walls.
"It was a bloody and brutal fight to capture the mountain top. Repeated pinpoint artillery attacks caused our leaders to assume the abbey was being used by the Germans as an observation post. Fears escalated along with many casualties." Stan recalls.
On 15 February American bombers dropped 1,400 tons of high explosives, creating widespread damage. Soon after, the German defenders were finally driven from their positions, but at a high cost. The capture of Monte Cassino resulted in 55,000 Allied casualties.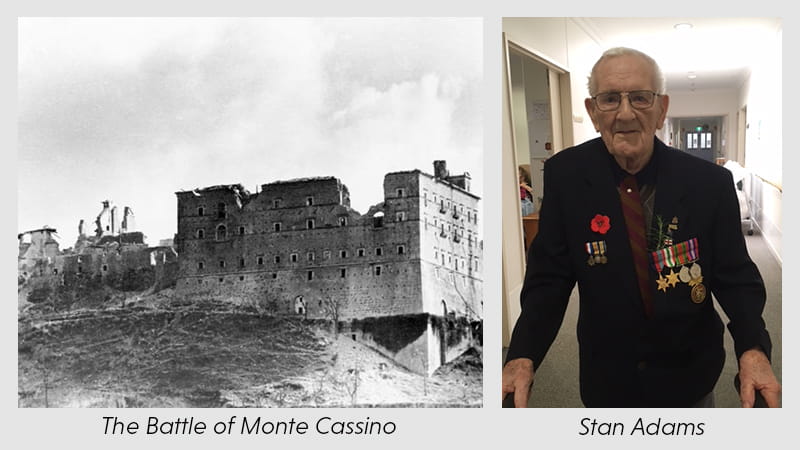 Edna's story:
Edna Petfield lives in our Sutherland care home and joined the Australian Women's Army Service (AWAS) and spent most of World War Two in uniform. A group of women, including Edna, were selected for their above-average hearing and eyesight. Her assignment was discreet but vital in Australia's war effort. Edna operated searchlights and sound locators near Newcastle.
"Japanese planes were threatening our coastline, including the BHP Steelworks and our ability to make steel, so we had to be ready. We were also trained to shoot with 303 rifles and Bren guns. We were a small group, and there was a great camaraderie amongst us. We had to depend on each other to survive. I was one of the lucky ones", says Edna.
Edna will be polishing up her medals and joining Carl Rowland to lay a wreath during the annual commemorations at the Nagle care home on April 25. Carl was just a young boy growing up in Grantham, England and remembers the nightly bombing raids, which turned nearby streets into rubble. He later joined the RAF National Service and was posted to Malaya in 1956.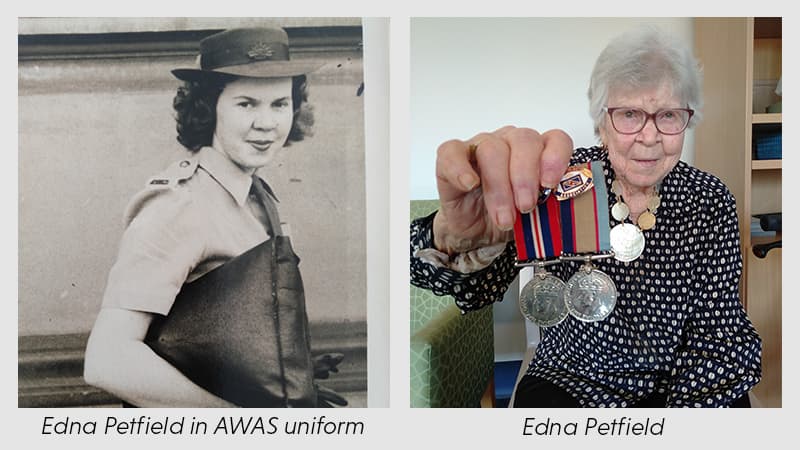 Helen Emmerson, CEO of Southern Cross Care NSW & ACT, says it's important for residents to be able to commemorate the service of loved ones and friends with a little more normality this year.
"Anzac Day has long been steeped in tradition, but last year, COVID-19 restrictions changed the way we were able to honour those who served for our country. "ANZAC Day is a time of reflection for all our residents," Ms Emmerson said. "Many of our residents have served or know someone who did. We want everyone to take the time to commemorate the ANZAC spirit and the sacrifice of loved ones in our own personal ways."