Virtual friends come together after a year of video calls to celebrate Christmas
December 09, 2020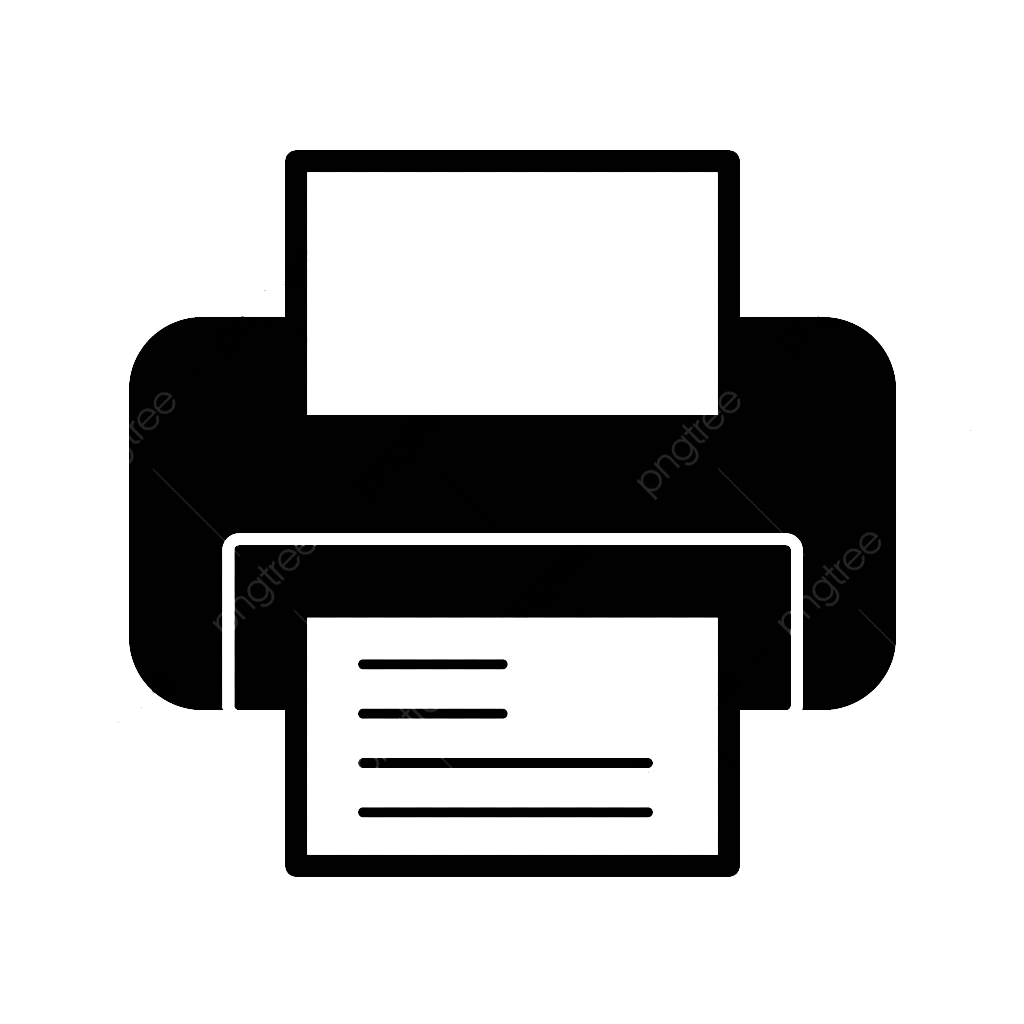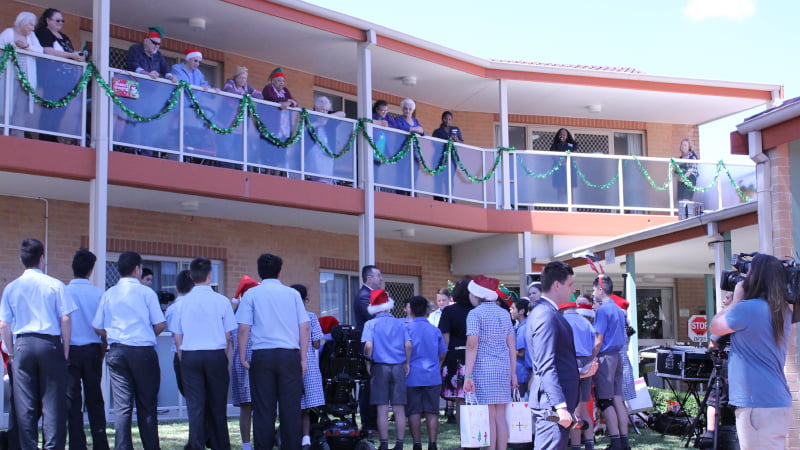 Our Greystanes care home residents have been connecting with year 6 students (from their classroom) before and during COVID-19 via weekly video calls, as part of an Intergenerational Learning program with Our Lady Queen of Peace Primary School, Greystanes.
After 9 months of visitor restrictions, the students finally met their elderly friends in the same physical space (instead of a TV screen!) to say thank you for their time in the video calls during the year and celebrate the spirit of Christmas.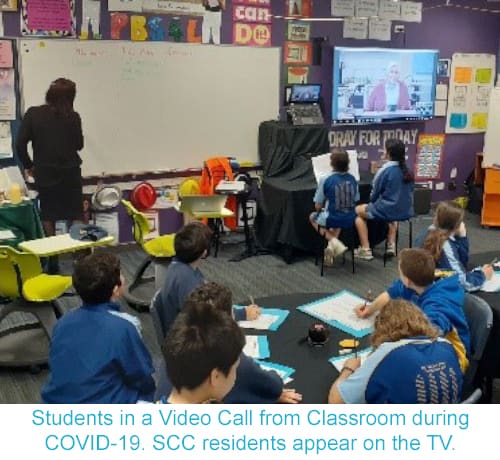 The students gathered in front of the Greystanes care home and set up microphones to chat and entertain residents with presentations and carol singing. The residents eagerly watched from the balcony and participated by telling jokes, reciting an original poem and words of thanks to the students, teachers and TV news media.
The intergenerational program began before the pandemic impacted the community, but has proved invaluable for the residents, staff and students during a very long and challenging year.
This initiative is part of a research project carried out by the researcher Greg Cronan from Intergenerational Learning Australia and academics at Griffith University. Every video call is designed to engage students and residents in reciprocal learning through purposeful conversations based on school curriculum topics. Subjects included history, English, science, maths, philosophy and religion.
The residents have homework to do each week (to the best of their ability) in preparation for the next video call. They may do this individually or in groups. Benefits for residents are improved mood, less negativity and self-isolation, better sleep and appetite, positive interactions with staff, family and other residents resulting in a huge boost in well-being, purpose and happiness for the residents. These changes also had a positive contagion effect on staff.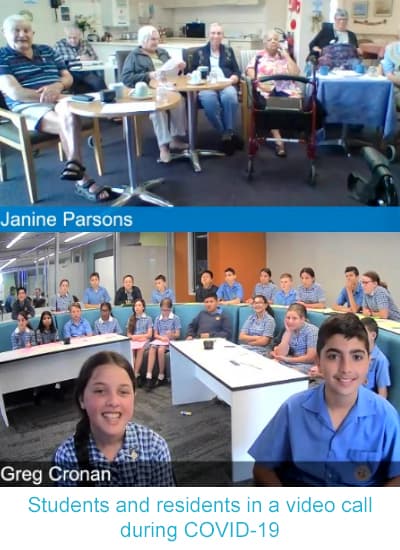 Other benefits for students include calmness and better attentiveness in class, improved student attendance rates, learning different contexts and meaning of words and phrases, understanding history through a different 'lense' and world view plus improved real-time communication skills. It also fostered their empathy, respect for elders and compassion.
Research shows there are many more mutual social, behavioural and health benefits for both age groups as a result of these interactions which will continue to be investigated.
"These interactions are a win-win for both age groups, staff and the aged care and education markets. It also an innovative response to the Aged Care Royal Commission's report that encouraged aged care organisations to implement 'creative' programs that decrease the loneliness and isolation of elders. We are very pleased to have Southern Cross Care (SCC) NSW/ACT participate in this program and we look forward to implementing it in other homes." says Greg.
Anneke Fitzgerald, PhD is a Professor Health Management from Griffith University and is looking forward to expanding the program. "This intergenerational learning program has its foundations in evidence-based research by our team at Griffith University and has demonstrated to be a sustainable model. Through this academic process, successful programs like this transform from 'Nice to do' to 'Wise to do'. We look forward to expanding this program and further research with Greg.
Southern Cross Care is working to change society's notion of ageing by having our care homes more involved within their communities.
"I've always believed that the key to helping older people live fulfilling lives is to make ageing everyone's business. Feeling connected is essential to wellness and healthy ageing, increased life expectancy and quality of life," said Helen Emmerson, CEO of Southern Cross Care.