Southern Cross Care (NSW & ACT) is well-placed to be a strong and resilient aged care provider.
We are committed to good governance that focuses on what matters now and in the future. This is important to us as we strive to meet our strategic objective of being a well-managed and sustainable organisation.
We care for and about people, from our residents to our clients and staff.
We also care about the environment, which is why we are always looking for ways to minimise our impact on the environment to ensure wherever possible, our activities promote environmentally responsible, sustainable practices to build a better future for our community and the environment.
Key targets
• Achieve 10% reduction of our total consumption of resource use by 2021 (based on the baseline) across the board (electricity, gas and water) on a per bed basis.
• Reduce overall waste from landfill by 10% per bed by 2021 against the baseline.
• Increase our motor vehicle fuel efficiency by 10% against the baseline by 2021.
• Achieve 15% reduction on overall paper purchasing by 2021 per bed against the baseline.
• Incorporate Ecologically Sustainable Development (ESD) principles into all new builds and major refurbishment projects, to minimise environmental impact.
• Achieve a minimum of 80% support from staff for sustainability initiatives by 2021, captured in surveys.
• Increase overall awareness amongst staff of all areas of sustainability (social, economic and environmental).
Leader in Aged Care Sustainability
• Industry participation and recognition through being "responsible" and a "leader" in this area.
• Improve the sustainability credentials and ethics of our supply chain, including building supplies, and labour laws.
• Verify 5% of our key suppliers against our sustainable and ethical supply chain requirements by 2021.
• Become (and maintain) a family and community friendly organisation, by participating in a minimum of five local community activities by 2021.

Current and ongoing initiatives
Major projects:
Complete Solar PV Panels and LED Lighting installations across a selected number of our Residential Aged Care facilities in 2021.
Complete the redevelopment of the Residential Aged Care facility in Grafton by 2022.
Complete LED Lighting upgrades at Bateau Bay and Greystanes Residential Aged Care facilities in 2021.
We engaged Azility in 2019 to manage and monitor utilities consumption and reporting across the entire organisation. This includes Water, Gas, Electricity, Fuel, Waste and overall resulting Emissions. The Azility Platform and reporting tools will enable us to accurately track the progress achieved from our actions.
We are a member of the Sustainability Advantage Program.
Major actions:
Hybrid Vehicles will be used as of January 2020 when it is anticipated that the vehicle will travel more than 43,350 kms over its lifetime with us. Hybrid cars consume less fuel and emit less CO2 than a comparable conventional petrol or diesel-engine vehicle.
We implemented a standard printing program across the organisation in late 2019 to reduce overall paper usage, by setting all default printing to double sided and Mono (black & white).
Completed projects
Solar Photovoltaic (PV) system: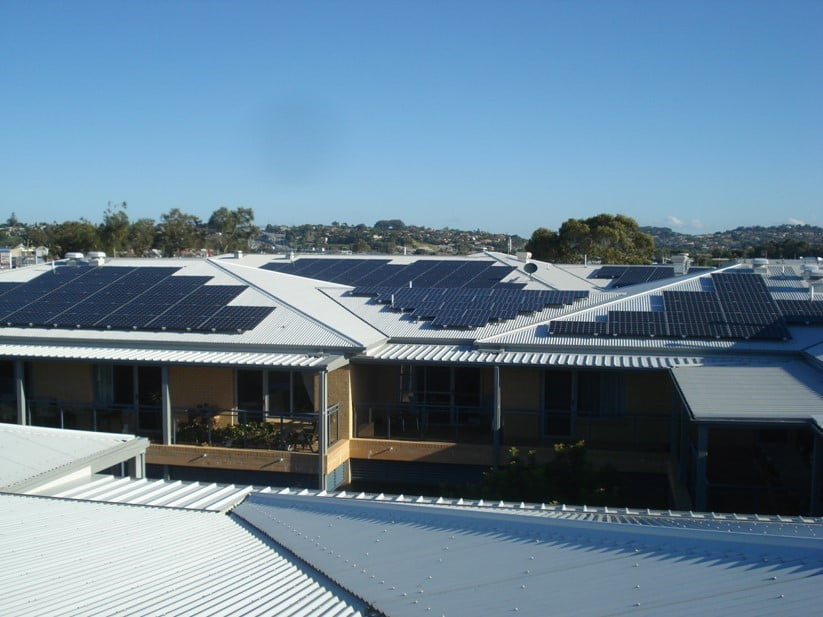 Solar Photovoltaic(PV) system installations as a means to reduce electricity demand from the main grid, reduce fossil fuel demand, minimise our carbon footprint and demonstrate our commitment to preserving the environment and its resources. The following sites are where Solar PV systems have been commissioned:
• Tweed Heads – 87.9kW System commissioned in February 2015
• Epping – 28.08kW System commissioned in October 2016
• Parkes – 99.86kW System commissioned in September 2017
• Marsfield – 89.03kW System commissioned in February 2018
• Thornton Park – 20kW System commissioned in December 2018
• North Turramurra – 99.33kW System commissioned in August 2019
The Liquid Food Composter (LFC):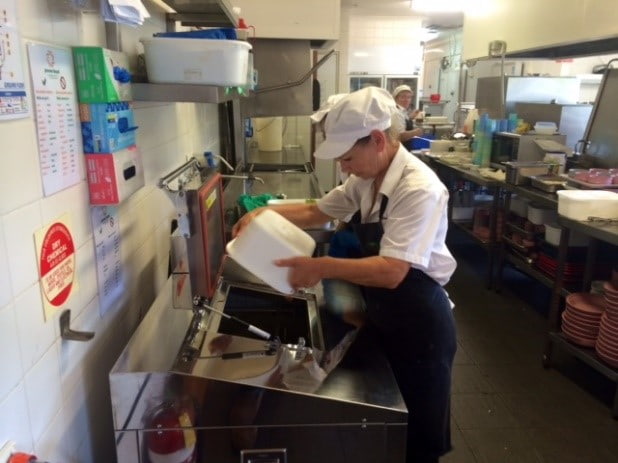 The Liquid Food Composter (LFC) provides a clean and environmentally friendly solution to minimising carbon emissions from organic waste (e.g. food leftovers). The digesters utilise microorganisms and oxygen to break down organic matter – a process known as aerobic decomposition. LFCs were installed at:
• Tweed Heads – LFC-50 by Power Knot (commissioned in April 2017)
• Marsfield – LFC-50 by Power Knot (commissioned in December 2017)
• North Turramurra – LFC-50 by Power Knot (commissioned in August 2019)



MODERN SLAVERY
Our commitment to caring for people is underpinned by our responsibility to respect human rights.
We are committed to reducing the presence of modern slavery throughout our operations and supply chain through ethical policies, actions and practices that reduce slavery and exploitation.
What is modern slavery?
Modern slavery describes situations where offenders use coercion, threats, or deception to exploit victims and undermine their freedom.
Practices that constitute modern slavery can include: human trafficking; slavery; servitude; forced labour; debt bondage; forced marriage, and the worst forms of child labour.
Modern slavery does not include practices like substandard working conditions or underpayment of workers, though these practices are also harmful and may be present in some situations of modern slavery1.
Current initiatives
Since joining the ACAN, Southern Cross Care (NSW & ACT) has developed an Action Plan to comply with Australia's Modern Slavery Act and progress in the area of reducing and/or eliminating slavery in Australia and around the world.
Our Procurement team is leading this initiative.
Our action plan supports the United Nations Sustainable Development Goal 8: Decent Work & Economic Growth to establish multiple actions to reduce modern slavery. Our plan also reflects the outcome of consultations with industry leaders and the Sustainability Advantage Program.
By collectively working to achieve these actions, we are contributing to the global reduction of modern slavery and supporting our key suppliers and stakeholders to do the same.

GET IN TOUCH
We value your feedback. Please e-mail us at sustainability@sccliving.org.au or call us on 1800 632 314 to share your comments with us or to receive additional information.

---
1 Source: Australian Government – Department of Home Affairs 2018