Harley discovers a passion for cooking
September 25, 2020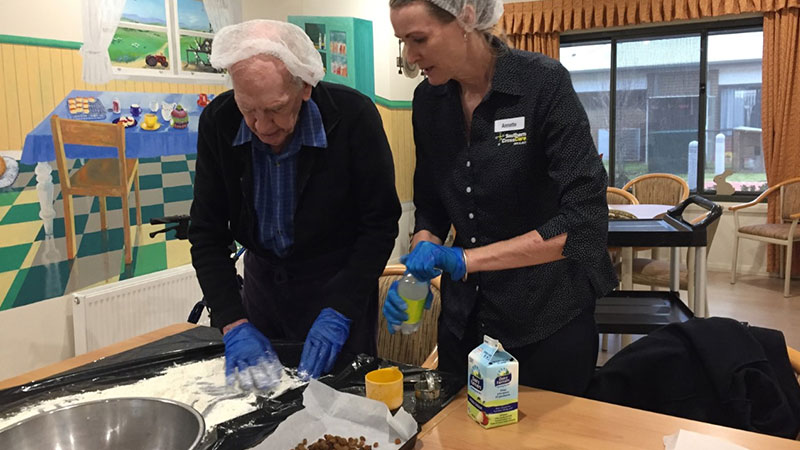 Our Care homes are looking after residents living with dementia every day, with a focus on supporting the needs of each individual. That's because it's important that residents with dementia live with purpose and meaning, in a homely environment where they feel safe and secure.
Harley Blackman is a resident at Harden and living with dementia. Harley was born in 1942 in Cobar NSW and had various jobs during his working life, including driving trucks. But soon after it was time to hand over the keys and retire, his wife Judy noticed some irregularities in Harley's behaviour.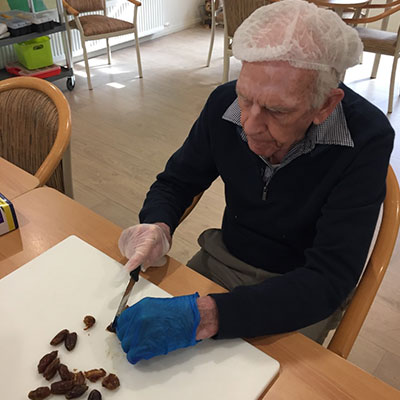 "We noticed subtle changes with Harley about 12 months after he retired. He seemed to be getting vague and he started to struggle physically. He had trouble turning a bolt on our pool fence with his right hand, which seemed unusual," she says.
Harley was later diagnosed with Parkinson's Disease and is now living with dementia. Residents living with dementia require additional care and consideration to ensure they are supported in living a purposeful and engaging life, so the Harden Lifestyle Team introduced Harley to their cooking group.
It was here that Harley discovered a new passion for cooking, baking scones, muffins and shortbread (melting moments) and thrilling everyone with his new talents.
"I had no idea he could bake - he always fired up the BBQ at home but never baking in the kitchen. It's a real surprise to see him go from truck driver to cook. His scones are so wonderful," says Judy.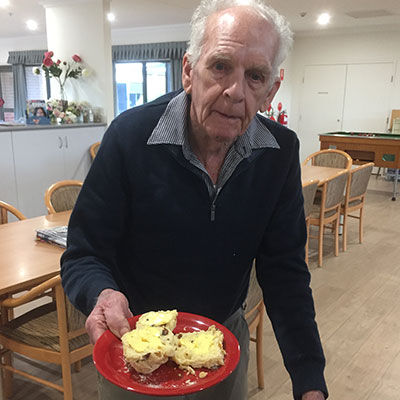 There are also other dementia specific set activities for residents to help with their wellbeing but most importantly, all dementia residents are encouraged to participate in everyday tasks that are within their abilities, providing a sense of purpose for them. These tasks can include internal mail deliveries, newspaper deliveries, setting the table for meals and other daily tasks that many of us take for granted, but are significant for those living with dementia.
Harley now looks forward to his regular cooking group, and his scones are proving popular with the other residents and staff in the home.
Caring for someone living with Dementia can be difficult. As a person's ability to perform everyday tasks decreases, they can become increasingly reliant on their carers. Residential care provides round-the-clock support, as well as social interaction for people who may otherwise be at home on their own. Find a Southern Cross Care Home near you.
Dementia is the second leading cause of death in Australia and affects close to half a million Australians. That number is set double in the next 25 years. Dementia Action Week is held each September and assists in creating awareness, raising funds and providing those living with dementia with a better quality of life. For more information go to https://www.dementia.org.au
Articles we recommend
Comments