Keeping busy keeps me well
August 27, 2019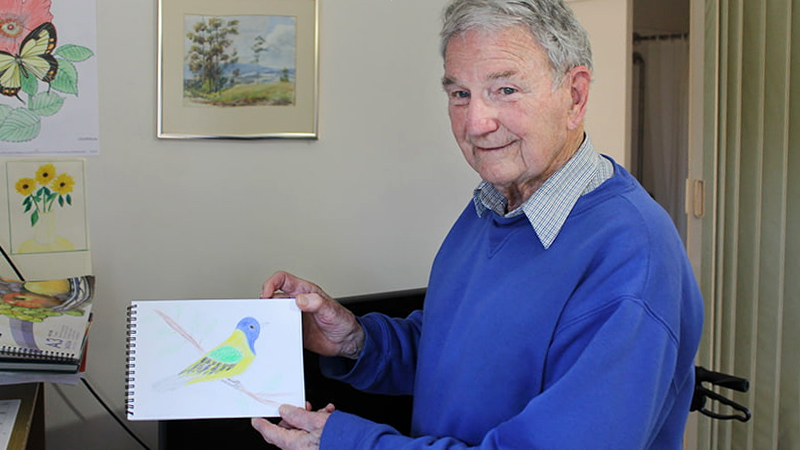 Noel from our Nordby home in West Pennant Hills is enjoying living in a place that keeps his mind occupied by encouraging him to spend time on his hobbies. Noel's room is now covered in his colourful bird drawings, even though he only started drawing in the last year after Sandra, the Facility Manager, gave him a bird watching book.
"She knew I loved looking out for the different birds that would stop by outside the windows here, so she gave me the bird watching books she came across," said Noel.
That love of bird watching turned into Noel beginning to sketch the birds so he could remember what they looked like. Noel now spends a lot of time capturing the beauty and colours of his favourite birds.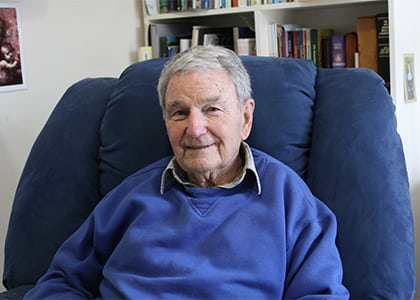 "I first started drawing houses and interesting building I'd seen actually, like the building Shakespeare was born in after visiting the town in England. In my day, art wasn't taught to the boys at school so it's a hobby I didn't pick up until much later in life," said Noel.
Noel has lived in the Nordby home for the last three years, having grown up in Melbourne but moved to Sydney in retirement to be closer to friends. The staff have gotten to know him over the years and supports him to engage in the activities and outings he enjoys.
"Keeping busy keeps me well, I have a busy mind, so I need to keep it occupied. The staff are very on the ball here, they are alert, bright and caring. I like that it's a bit smaller, it makes it more homely" said Noel.
Noel finds living here not that much different to how he always lived his life. He values his independence but it's a relief to have the staff looking out for him.
Nordby is located in a quiet residential street with beautiful landscaped gardens and views. In addition to great round-the-clock care, our home offers a tranquil and peaceful care environment with a warm, family atmosphere. Our affordable, spacious private suites all come with private ensuite and feature garden views, many with a sitting room, kitchenette and balcony.
Enquire now to discover better Aged Care in West Pennant Hills by filling-in the online contact us form or by calling 1800 632 314.
Articles we recommend
Comments